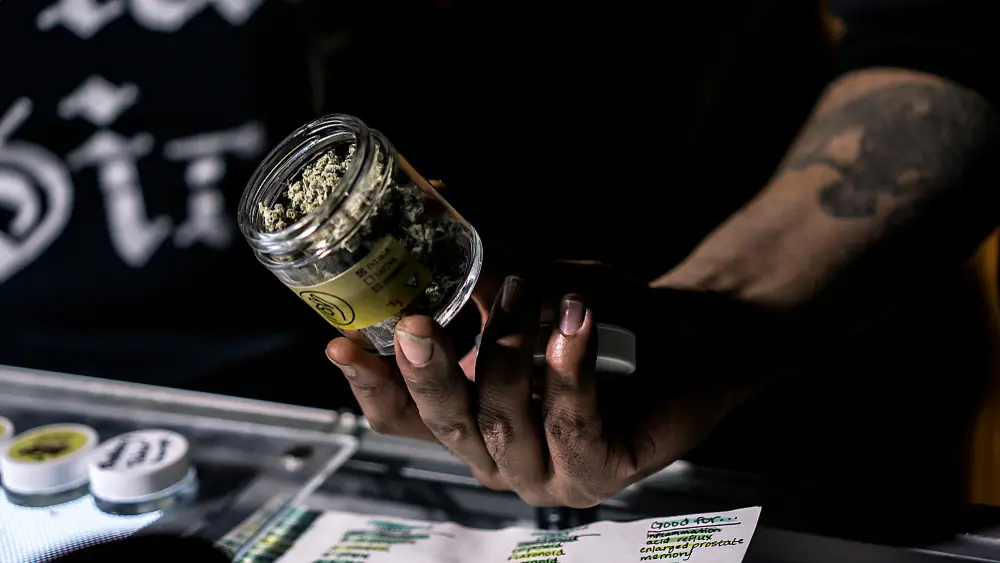 So, what is the list of best strains for smoking weed?
When you come for the first time at the cannabis club Barcelona, usually you get lost a bit because there are a lot of different types of cannabis and it is difficult to understand which ones are the best strains for smoking weed. Especially for the tourists who just came to visit Barcelona for some days or for some weeks and they don't have a lot of time to taste them all. Here we have the best cannabis strain reviews which will help you to decide what do you want to smoke.
Of course, there are a lot of different lists about best of the best but there are some unique strains that have to be trying by everyone who is into it. They have some special things it the taste, smell, and effects that could give you a lot of good and unforgettable moments. In Barcelona, there are a lot of special types of weed but we will talk about most beloved of them and that must be trying when you are traveling to this country.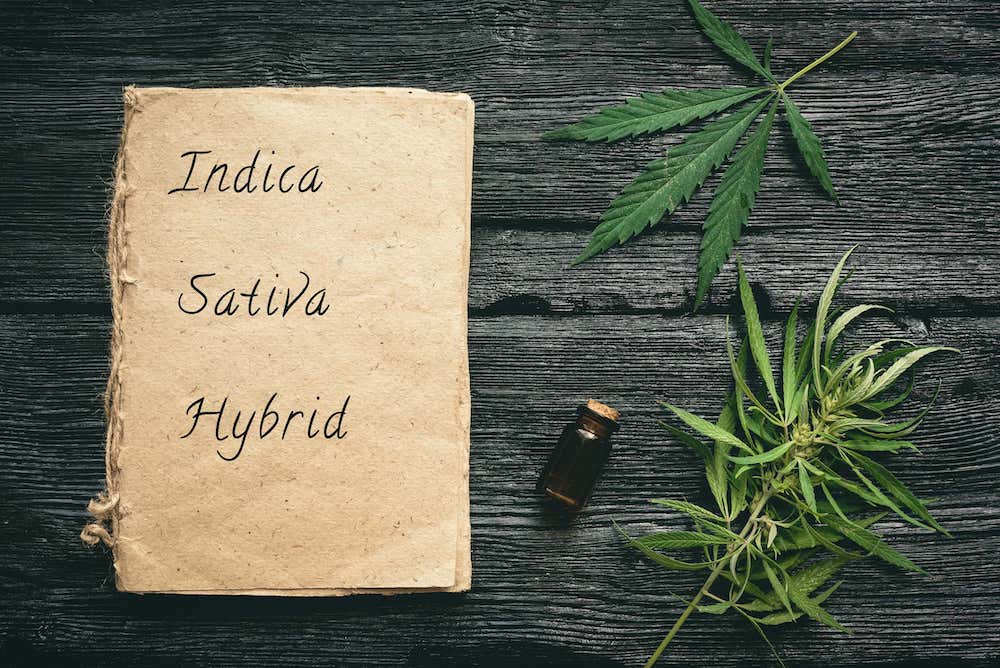 What types of marijuana in Barcelona: guide how to choose your strains?
toHow to understand which effects of different types of cannabis you can get and how to choose what do you need according to your mood?
This classification based on my own taste and reviews of the people who regularly smoking weed and travel a lot so that list is the summary of really good weed strains that deserve to be smoked out.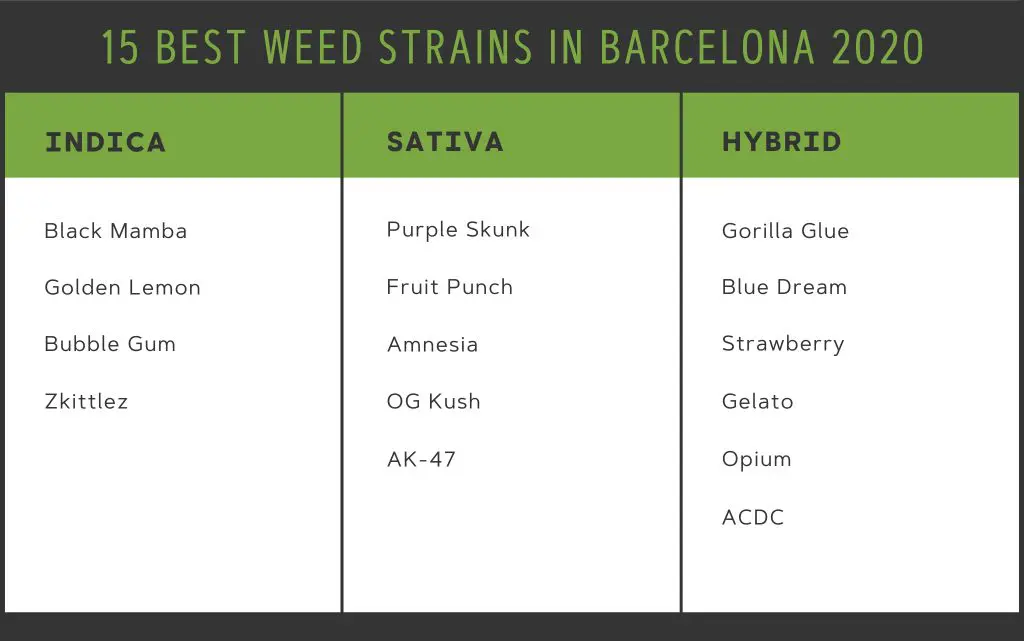 Indica weed strains
Black Mamba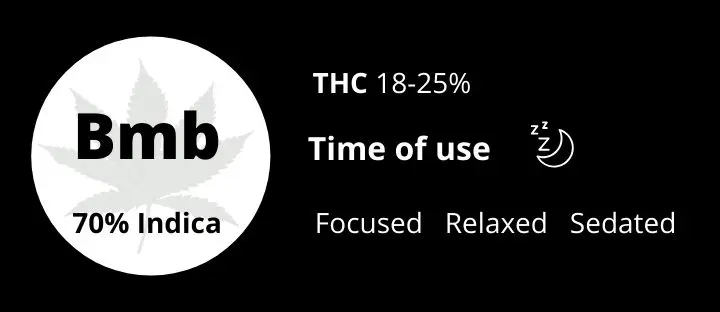 That weed will make some changes in your perception to make you more focused on details that maybe was out of your attention before. Named by the dangerous African snake this weed is really strong and maybe not on the top cannabis strains for beginners, but for the smokers with an experience. One of the distinctive signs of this weed is the smell and taste of the grapes.
Golden Lemon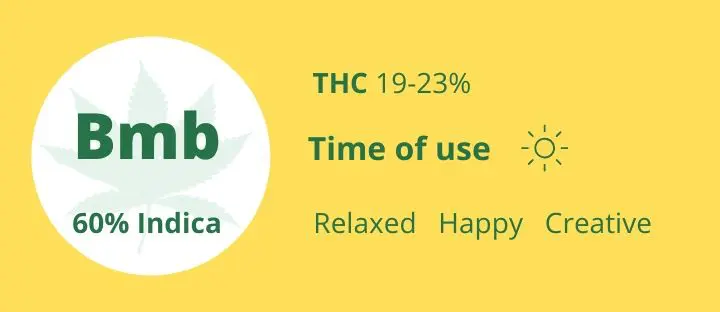 The best option for those who want to relax: you can find yourself at the sofa happy and chilling out after a joint with weed with a bright citrus taste. It is going through all your body and brings a positive and satisfied mood. Strong enough for the beginners Golden Lemon can get a bit of euphoric but after some time it is leaving you with uplifted feeling and super relaxed.
Bubble Gum
Bubblegum appeared in 1993 and since that time it won four High Times Cannabis Cups. It has a sweet smell (of course, because it is Bubble Gum!) and it lifts mood, but also makes you relaxed. It is the best option for spending time on the sofa watching movies, chilling and after going to sleep with bright dreams.
Zkittlez
This weed was a winner at Emerald Cup in San Francisco and at the Cannabis Cups in Michigan in 2016 and 2015. Super fruity strains with some notes of berry and lemon makes you super focused and concentrate so it is perfect for doing some work or to communicate with people and to talk about ideas.
List of sativa strains
Fruit Punch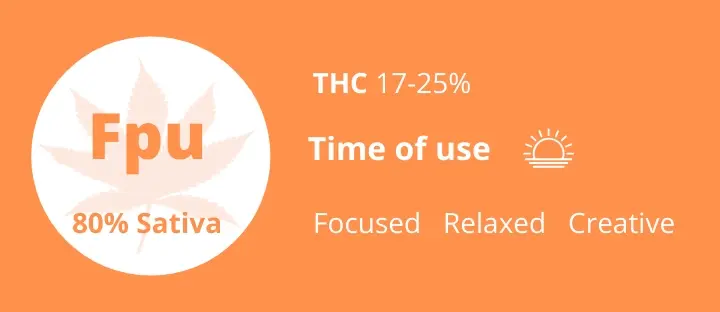 A fruity berry aroma and energetical effect are the best combinations to have a creative and focused mood and relaxed at the same time. Fruit Punch allows people to maintain the concentration, it may also have some trippy effects with the sense of time expansion. Positive mood also makes your body more energetic so you can do most of the things: moving, doing something physically, and also have great brainstorming.
Purple Skunk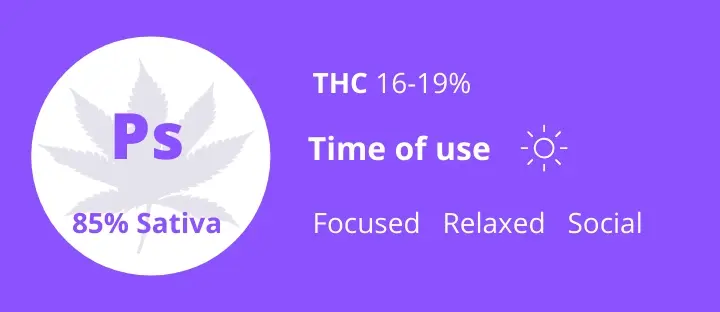 Purple Skunk was definitely made for people who want to have a lot of fun! It boosts energy, improves your focus, also uplifts mood. But at the same time, it relaxes your body enough to be in the mood and be active but more with brain concentration, it makes you feel very social. As for a flavor and smell, it has a unique deep wine-like taste.
Amnesia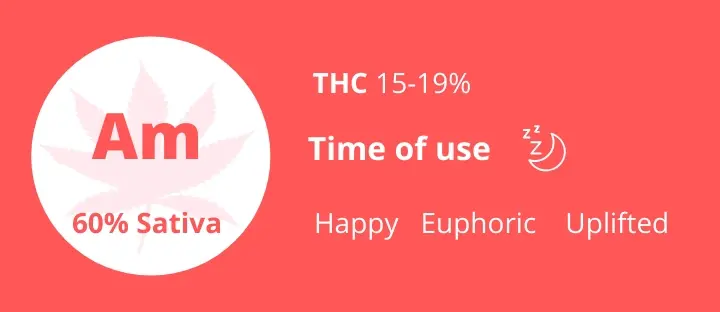 Amnesia is the strain, which has won a lot of awards in the cannabis world. It is a premium quality weed which is often characterized by a loss of short-term memory, but it is replaced by the good things and happy times. Soft fruity taste with some notes of mint and pepper brings you into euphoric and uplifted mood very easily.
OG Kush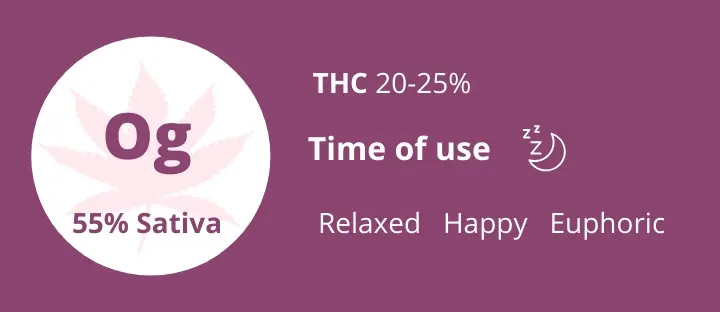 This strain is a legend which is well-known in the cannabis community. It has deep smell and taste which reminds pine, craft beer, and also has some citrus tones. OG Kush easily makes you relaxed and happy, allows to enjoy both things: to be social and also to be alone with your own staff.
AK-47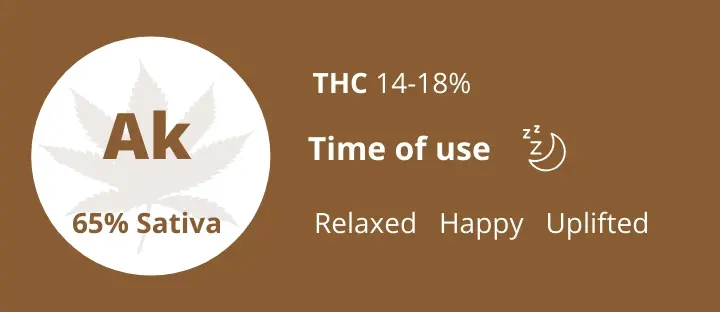 AK-47 is the best weed for beginners which gives you some kind of "soft mood", happy and easygoing. It is a very good option for those who want to listen to some music, be happy and uplifted.  It has sour and earthy smell but at the same time sweet and floral notes at the taste.This strain gives a peaceful and euphoric mood, also helps with sleeping.
Best hybrid types of weed
Gorilla Glue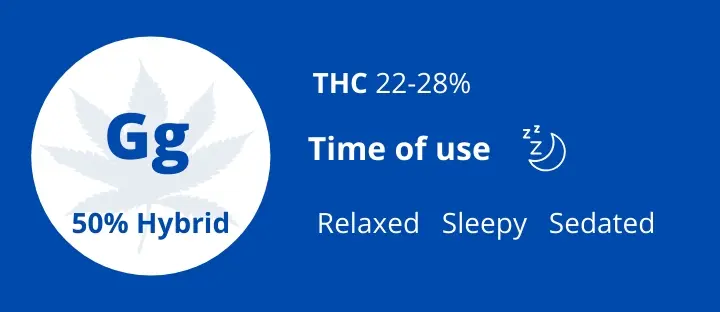 Well-known by its sedating high, it appeared in 2016 and became one of the favorites on the weed society. Coffee and chocolate taste mixed with sour tones which makes it very recognizable. It has an anti stressful effect also makes you happy and relaxed. The best option for the evening or night when you don't need to concentrate a lot.
Blue Dream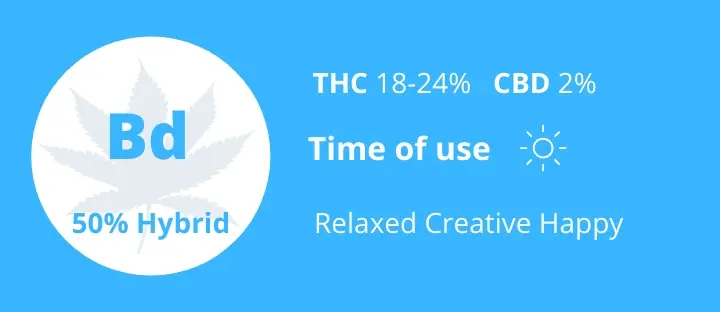 This weed is a very mysterious because no one knows where it came from and how it appeared, so that's why it calls Dream. Delicious flavors and smells of blueberries and sugar envelop you from all the sides and put at the melting relaxed and sensitive mood which will be perfect for the artists, for example.
Strawberry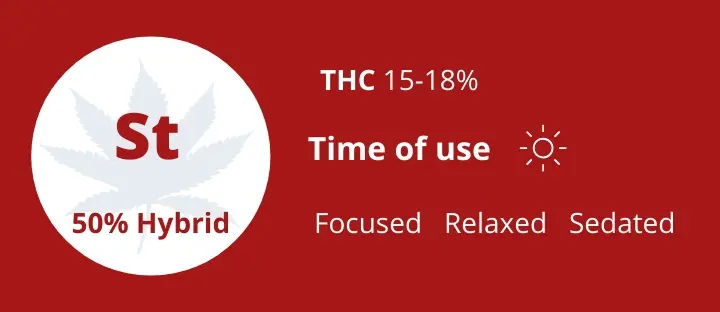 It has an amazing taste with sweet cream and strong berries, with a deep fruity smell. Strawberry improves your mood, makes you more creative and focused, increases the level of socialization. Also, this strain brings some relaxation into your life and makes you calm with some sedative effects.
Gelato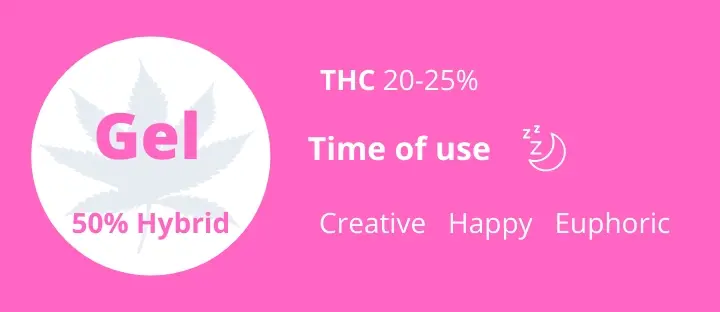 That strain deserves to be on top weed sorten because of its mellow citrus flavor with notes of yeast and dough. It gives some creamy and soft sensation, that's why it calls Gelato, ice-cream. It has some effects such as time dilation and sound sensitivity, makes you creative and happy.
Opium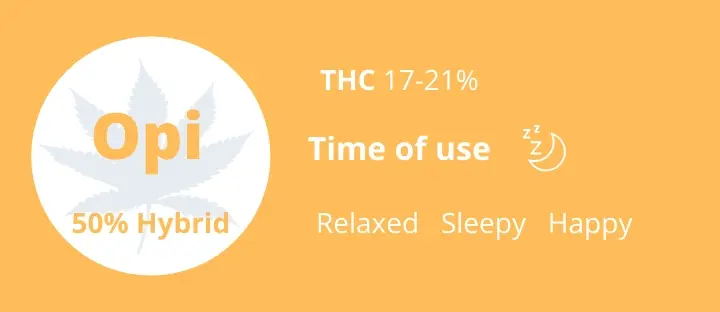 And the winner is...Opium! They said it in 2006 when it won 2nd place at the High Times Cannabis Cup. Opium's high is great for calming your mind and body. It has a euphoric impact that could make you super happy. You can have some visual effects, but you should still be able to stay in a relaxed mood.
ACDC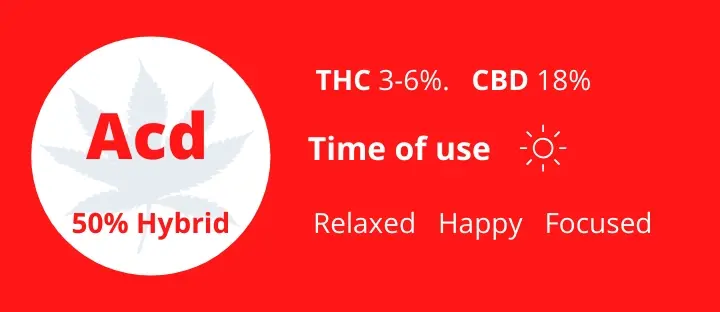 This strain is unique and one of the best CBD cannabis type because it has a high level of the CBD and a very low level of THC. What does it mean? Fist of all it is the top CBD strains for weed edibles. Secondly, smoking will give you an uplifting effect including peace and happiness. It makes people feel focused, relaxed, and sociable.
And to sum it up
All these types of weed you can try on the list of Spain weed social clubs which you will find on our website. Of course, there are a lot of amazing sativa and indica weed sorten which deserve to be there, but it is my personal list of the strains which seem to me the most interesting to try. In conclusion I want to say that if you have your own personal recommendation leave them in the comments under this article, so more users could try and explore more types of weed to share their experience.